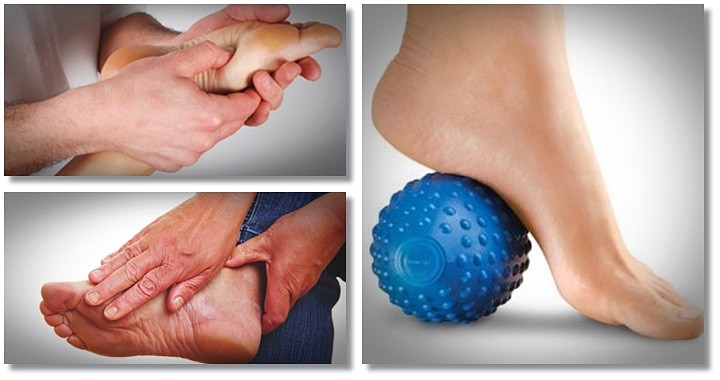 Overview
The plantar fascia is a thick, ligamentous connective tissue that runs from the heel bone to the ball of the foot. This strong and tight tissue helps maintain the arch of the foot. It is also one of the major transmitters of weight across the foot as you walk or run. Thus, tremendous stress is placed on the plantar fascia, often leading to plantar fasciitis- a stabbing or burning pain in the heel or arch of the foot. Plantar fasciitis is particularly common in runners. People who are overweight, women who are pregnant and those who wear shoes with inadequate support are also at a higher risk. Prolonged plantar fasciitis frequently leads to heel spurs, a hook of bone that can form on the heel bone. The heel spur itself is not thought to be the primary cause of pain, rather inflammation and irritation of the plantar fascia is the primary problem.
Causes
The most frequent cause is an abnormal motion of the foot called excessive pronation. Normally, while walking or during long distance running, your foot will strike the ground on the heel, then roll forward toward your toes and inward to the arch. Your arch should only dip slightly during this motion. If it lowers too much, you have what is known as excessive pronation. For more details on pronation, please see the section on biomechanics and gait. Clinically not only those with low arches, but those with high arches can sometimes have plantar fasciitis. The mechanical structure of your feet and the manner in which the different segments of your feet are linked together and joined with your legs has a major impact on their function and on the development of mechanically caused problems. Merely having "flat feet" won't take the spring out of your step, but having badly functioning feet with poor bone alignment will adversely affect the muscles, ligaments, and tendons and can create a variety of aches and pains. Excess pronation can cause the arch of your foot to stretch excessively with each step. It can also cause too much motion in segments of the foot that should be stable as you are walking or running. This "hypermobility" may cause other bones to shift and cause other mechanically induced problems.
Symptoms
Plantar fasciitis generally occurs in one foot. Bilateral plantar fasciitis is unusual and tends to be the result of a systemic arthritic condition that is exceptionally rare among athletes. Males suffer from a somewhat greater incidence of plantar fasciitis than females, perhaps as a result of greater weight coupled with greater speed and ground impact, as well as less flexibility in the foot. Typically, the sufferer of plantar fasciitis experiences pain upon rising after sleep, particularly the first step out of bed. Such pain is tightly localized at the bony landmark on the anterior medial tubercle of the calcaneus. In some cases, pain may prevent the athlete from walking in a normal heel-toe gait, causing an irregular walk as means of compensation. Less common areas of pain include the forefoot, Achilles tendon, or subtalar joint. After a brief period of walking, the pain usually subsides, but returns again either with vigorous activity or prolonged standing or walking. On the field, an altered gait or abnormal stride pattern, along with pain during running or jumping activities are tell-tale signs of plantar fasciitis and should be given prompt attention. Further indications of the injury include poor dorsiflexion (lifting the forefoot off the ground) due to a shortened gastroc complex, (muscles of the calf). Crouching in a full squat position with the sole of the foot flat on the ground can be used as a test, as pain will preclude it for the athlete suffering from plantar fasciitis, causing an elevation of the heel due to tension in the gastroc complex.
Diagnosis
Plantar fasciitis is usually diagnosed by a health care provider after consideration of a person's presenting history, risk factors, and clinical examination. Tenderness to palpation along the inner aspect of the heel bone on the sole of the foot may be elicited during the physical examination. The foot may have limited dorsiflexion due to tightness of the calf muscles or the Achilles tendon. Dorsiflexion of the foot may elicit the pain due to stretching of the plantar fascia with this motion. Diagnostic imaging studies are not usually needed to diagnose plantar fasciitis. However, in certain cases a physician may decide imaging studies (such as X-rays, diagnostic ultrasound or MRI) are warranted to rule out other serious causes of foot pain. Bilateral heel pain or heel pain in the context of a systemic illness may indicate a need for a more in-depth diagnostic investigation. Lateral view x-rays of the ankle are the recommended first-line imaging modality to assess for other causes of heel pain such as stress fractures or bone spur development. Plantar fascia aponeurosis thickening at the heel greater than 5 millimeters as demonstrated by ultrasound is consistent with a diagnosis of plantar fasciitis. An incidental finding associated with this condition is a heel spur, a small bony calcification on the calcaneus (heel bone), which can be found in up to 50% of those with plantar fasciitis. In such cases, it is the underlying plantar fasciitis that produces the heel pain, and not the spur itself. The condition is responsible for the creation of the spur though the clinical significance of heel spurs in plantar fasciitis remains unclear.
Non Surgical Treatment
In general, plantar fasciitis is a self-limiting condition. Unfortunately, the time until resolution is often six to 18 months, which can lead to frustration for patients and physicians. Rest was cited by 25 percent of patients with plantar fasciitis in one study as the treatment that worked best. Athletes, active adults and persons whose occupations require lots of walking may not be compliant if instructed to stop all activity. Many sports medicine physicians have found that outlining a plan of "relative rest" that substitutes alternative forms of activity for activities that aggravate the symptoms will increase the chance of compliance with the treatment plan. It is equally important to correct the problems that place individuals at risk for plantar fasciitis, such as increased amount of weight-bearing activity, increased intensity of activity, hard walking/running surfaces and worn shoes. Early recognition and treatment usually lead to a shorter course of treatment as well as increased probability of success with conservative treatment measures.
Surgical Treatment
Surgery is considered only after 12 months of aggressive nonsurgical treatment. Gastrocnemius recession. This is a surgical lengthening of the calf (gastrocnemius) muscles. Because tight calf muscles place increased stress on the plantar fascia, this procedure is useful for patients who still have difficulty flexing their feet, despite a year of calf stretches. In gastrocnemius recession, one of the two muscles that make up the calf is lengthened to increase the motion of the ankle. The procedure can be performed with a traditional, open incision or with a smaller incision and an endoscope, an instrument that contains a small camera. Your doctor will discuss the procedure that best meets your needs. Complication rates for gastrocnemius recession are low, but can include nerve damage. Plantar fascia release. If you have a normal range of ankle motion and continued heel pain, your doctor may recommend a partial release procedure. During surgery, the plantar fascia ligament is partially cut to relieve tension in the tissue. If you have a large bone spur, it will be removed, as well. Although the surgery can be performed endoscopically, it is more difficult than with an open incision. In addition, endoscopy has a higher risk of nerve damage.
Prevention
More than with most sports injuries, a little bit of prevention can go a long way toward keeping you free from plantar fasciitis. Here are some tips to follow. Wear supportive shoes that fit you well. When your shoes start to show wear and can no longer give your feet the support they need, it's time to get a new pair. Runners should stop using their old shoes after about 500 miles of use. Have a trained professional at a specialty running store help you find the right pair for your foot type, and then keep your shoes tied and snug when you wear them. Stay in good shape. By keeping your weight in check, you'll reduce the amount of stress on your feet. Stretch your calves and feet before you exercise or play a sport. Ask an athletic trainer or sports medicine specialist to show you some dynamic stretching exercises. Start any new activity or exercise slowly and increase the duration and intensity of the activity gradually. Don't go out and try to run 10 miles the first time you go for a jog. Build up to that level of exercise gradually. Talk to your doctor about getting heel pads, custom shoe inserts, or orthotics to put in your shoes. Foot supports can help cushion your feet and distribute your weight more evenly. This is especially true for people with high arches or flat feet. Your doctor will be able to tell you if shoe inserts and supports might lower your chances of heel injury.